This year's Book Fringe was everything we could ever hope for and more! You made it so.
If you came to one event in the garden or more: thank you. If you tuned in from home, joined the conversation via social media or ordered a book: thank you! We were hoping that, after its two year absence, the Book Fringe might offer both a calmer space in the midst of exciting August festivals, and nourish connections between urgent questions surrounding environmentalism, decolonial, feminist and anti-racist thought at a time when we all need encouragement and mutua support. We finished with very full hearts, a bit exhausted, but bursting with inspiration.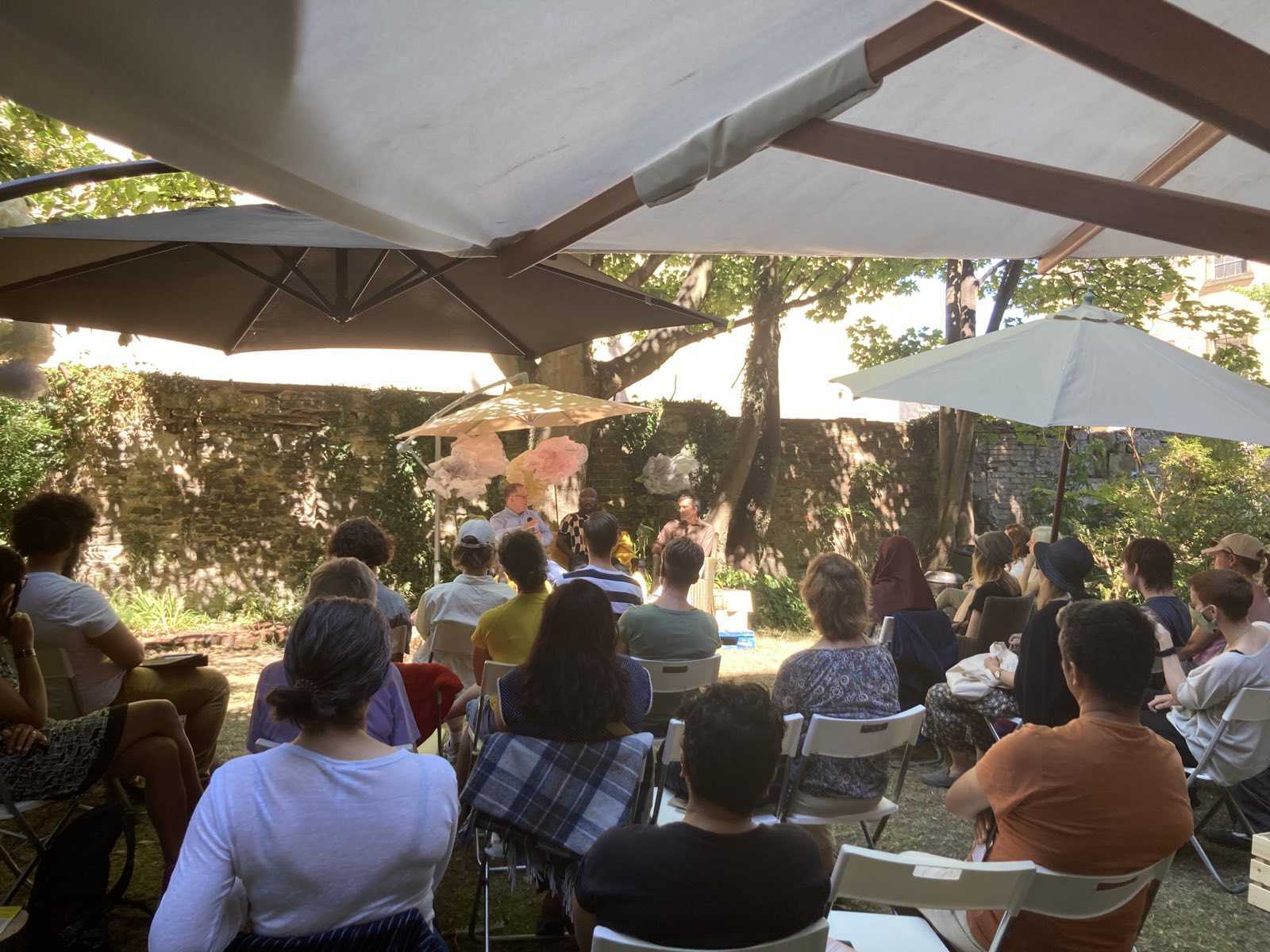 So, apart from an apprecition post directed at all our speakers, chairs and attendees, this is also a wee reminder of how you can still enjoy the Book Fringe after the fact. For ease, we've made a wee list with direct links to the event videos below.
We did have some technical difficulties at times, so you will note that the quality during the first few days is a bit wobbly. We're working on this and are hoping to update the files with better audio and video quality in the weeks to come, but in the meantime - we have the livestreams. We hope you you find some new favourites among them.
Speaking of what the Book Fringe left behind, we were also very lucky to have a whole host of wonderful authors signing their books. Signed copies of all the books below are available as long as stock lasts. If you're particualrly after a signed edition, do pop us a note to make sure we haven't run out!
Recorded Book Fringe events:
Words from isolation with Lennie Pennie, Nancy Campbell and Harry Josephine Giles
A Nervous System: Decolonising the Environmental Movement with Daniel Macmillen Voskoboynik, Jessica Gaitan Johannesson and Nish Doshi
Your Strength Gives Me Strength: Home and the Palestinian Diaspora with Amira Al Shanti & Xuanlin Tham
If Not More: Imagining Life Beyond Growth with Rebecca Tamas and Adrienne Buller
A Matter of Life: Hope, Wellbeing and Young Environmentalism with Ellen Miles & Chris Saltmarch
The Nan Shepherd Prize: Rewriting the Rules on Nature Writing with Rhiannon Bull, Caro Clarke & Rebecca Smith
Mother is a Verb with Josie Long, Kirsty Logan & Esa Aldegheri
Home's in the Making with Amanda Thomson and Sarah Thomas
What We're Made Of: on Water and Connection with Malachy Tallack, Alycia Pirmohamed & Christina Riley
Care. Community and Resilience with Rianna Walcott, Gemma Cairney & Roxani Krystalli
Belonging and Reclaiming: Queer Around the World with Paula Akpan, Jo Clifford & Jess Brough
Roots and Storytelling with Niall Moorjani, André Naffis-Sahely & Mara Menzies
The Dirty Origins of Scottish Wealth with Kojo Koram, Stephen Mullen & Rahul Rao
It's All Connected: Social Justice & Solidarity Networks with Morag Livingstone, Venus Abduallah & Living Rent
The Poetry of New Beginnings with JL Williams and Annie Rutherford
Wose Wilderness: Scottish Connections to Land with Jenna Watt & Sam Staddon