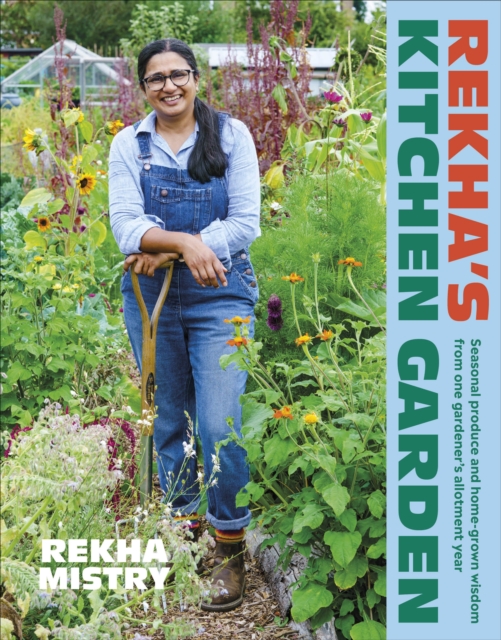 Rekha's Kitchen Garden : Seasonal Produce and Home-Grown Wisdom from One Gardener's Allotment Year
Mistry, Rekha
More by this author...
£18.99
Welcome to Rekha's Kitchen Garden: a North London allotment that is bursting with the very best seasonal produce all year round. With more than 30 years' experience as both an amateur and professional gardener, there is no better guide to home-grown produce than Rekha. Let her teach you the tricks and share the lessons she has learned from a lifetime of sowing, digging, and harvesting.
This isn't your average introduction to growing your own vegetables, fruits, and herbs. Packed with personality and stunning photography, this is a celebration of more than 40 seasonal crops that will inspire you to make the most of your allotment or kitchen garden. So what are you waiting for? Dive straight in to discover: - More than 40 profiles on different allotment crops, including vegetables, fruit, and herbs, with each one showcasing Rekha's personal experience and advice for achieving the best results. - Profiles organised by harvest season, emphasising the importance of seasonality. - "Garden tips" offer advice and solutions that Rekha uses in her own allotment, while "Kitchen tips" reveal how Rekha makes the most of her harvest. - "Planting partners" introduce readers to companion planting, while suggested varieties reveal the crops that Rekha recommends from her own experience.
- An introductory section at the start of the book sets out Rekha's ethos as an organic gardener, her approach to seasonality, general allotment tips and her favourite tools. The section also features a table highlighting some of the key tasks on the plot and in the greenhouse each month..
- All photography has been shot at Rekha's own allotment over the course of a full year, to emphasise her hands-on experience with growing every crop featured in the book and to reveal what can be achieved with a single plot. Whoever you are and whatever gardening experience you have, pick up a spade and join Rekha - so that you too can enjoy the very best of what each season has to offer.