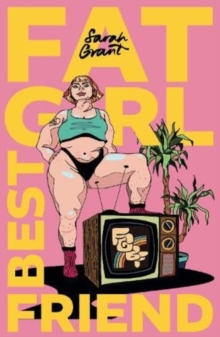 Fat Girl Best Friend : 'Claiming Our Space': Plus Size Women in Film & Television
Sarah Grant
More by this author...
£9.99
In this rivetingly funny, honest and accessible book, Sarah takes the reader on a pop culture voyage, looking at Bridgerton, The DUFF, Encanto, Orange is the New Black, Pitch Perfect, Shrek, Stranger Things, The Vicar of Dibley (to name but a few) through a modern, body-positive lens - picking apart fatphobic traits and dismantling patriarchal character archetypes with her unique and darkly humorous voice.
With the rise of the body-positivity movement and increasing awareness of fatphobia in mainstream culture, Fat Girl Best Friend comes a timely moment. Using her experiences as a plus size, queer, working-class creative working in film and television, Sarah interweaves personal anecdotes with socio-political analysis on our most loved media to explore why fat characters are rarely at the forefront of storytelling. No stone is left unturned as
Fat Girl Best Friend traverses why sexism, ageism, classism, racism, and ableism all have a part to play in the creation of sidekick plus size characters - and why female friendship may provide the solution.
'We all want to live our lives with oodles of Main Character Energy, but for some of us, we just don't look like your average entertainment thin Leading Lady.
While we live in an age of body positivity, we are not seeing that reflected in the cinema or on our television screens. From Fat Monica to Fat Amy, plus size women in film and television are a rare commodity, and if we see ourselves represented at all, it's not a pretty picture. We're either the pitied bully victim or the empty, sympathetic and disposable best friend.
Through the lens of Female Friendship, Fat Girl Best Friend dives into the treatment of plus size women in film and television, and goes looking for that Main Character Energy we all know we deserve.
Fat Girl Best Friend is 'Full of charm, humour and bright observations, Sarah Grant handles political weight with ease. Her writing advocates for a world of gorgeous gallus-ness where every woman can flourish as the protagonist of her own chosen story' - Catherine Wilson, poet and writer.
Sarah Grant is a writer, poet, filmmaker and actor based in Glasgow. She is a BAFTA Scotland New Talent Award Nominee, a Sky Academy Arts Scholar, a Scottish National Poetry Slam Championship finalist and on the Young Women's Movement 30-Under-30 list of influential women in Scotland. Her short film work has received awards around the world. Alongside partner, Katrina Allen, Sarah is co-writer and performer of sketch series 'BURDS' which has just been nominated for a Royal Television Society Award and received a 3x5 commission for BBC iPlayer. She is a seasoned comedy actor and very funny - According to BBC One Scotland (Ooh the Banter Hogmanay Broadcast 2023) Sarah Grant is part of 'The Future of Scottish Comedy. She performed at Glastonbury this year and will be at the Tidelines Book Festival.