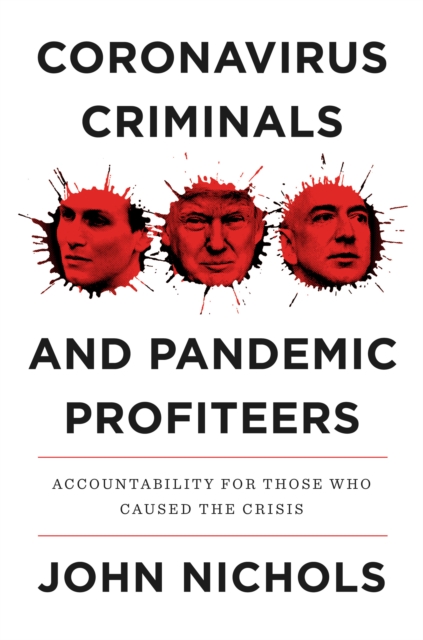 Coronavirus Criminals and Pandemic Profiteers : Accountability for Those Who Caused the Crisis
Nichols, John
More by this author...
£16.99
This short book calls to account the government misrulers and corporate criminals who made suffering from the global coronavirus pandemic more acute. Modeled on a famous 1940 bestseller--a pamphlet exposing appeasers of Nazi Germany--Guilty Men shows how the crisis has been stoked by the callous and opportunistic decisions of powerful men. The rogues gallery begins with Donald Trump, who deliberately downplayed the crisis despite knowing its dangers, as well as his international political allies, above all Boris Johnson.
Billionaire politicians like Georgia senator Kelly Loeffler moved stocks at the same time they were telling Americans all was well . Political charlatans like Education Secretary Betsy DeVos undermined public safety in order to advance their agenda, Trump-controlled agencies, led by the ever-crooked Federal Reserve, bailed out Wall Street while failing to provide basic relief for workers. Libertarian "think tanks" like the Ayn Rand Institute decried public expenditures but were first in line to get bailout checks.
Pharmaceutical companies gamed the vaccine race, and the most rapacious global corporations like Facebook, Visa, and Pfizer have found the pandemic to be very profitable indeed, vastly enriching the already grotesquely bloated fortunes of trillionaires like Jeff Bezos, Mark Zuckerberg, and Charles Koch. Guilty Men closes with a call for a version of the Pecora Commission, initiated by newly elected Franklin Roosevelt, that took aim at what FDR called "speculation, reckless banking, class antagonism, and profiteering" that stoked the Depression. The commission led to some of the most far-reaching reforms in US history, as well as sensational hearings that led to the fall of the leading bankers and financiers of that era