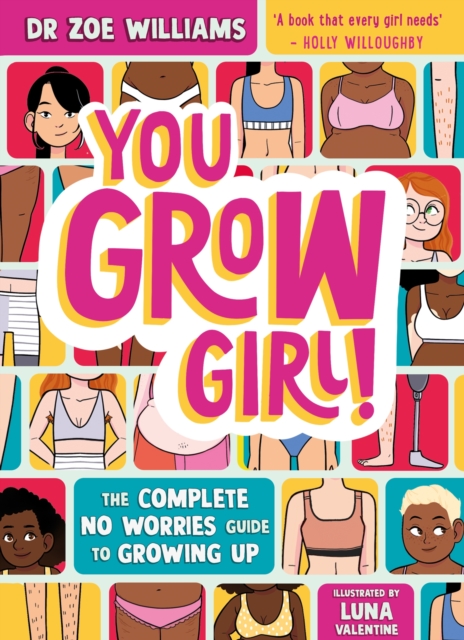 You Grow Girl! : The Complete No Worries Guide to Growing Up
Williams, Dr. Zoe
More by this author...
£9.99
Out of stock
Please contact the shop to check availability
'A book that every girl needs to grow up hoppy, healthy and thriving' - Holly Willoughby NHS GP and This Morning's resident doctor, Dr Zoe Williams, is here to explain everything girls need to know about puberty - plus lots more.
Growing up is exciting, but it can also be a strange and confusing time. This book will help you can ride your rollercoaster more smoothly! We'll cover the usual things such as periods and body changes, but also equip you with the knowledge you need to flourish and thrive in today's world, from self-care and recognising healthy relationships to talking about your mental health with confidence. Packed with easy-to-understand information, myth-busting advice and fun illustrations, this is the ultimate growing-up guide for girls aged 9+ who want to feel empowered, informed and positive about becoming the very best version of themselves.
Content includes: - Looking after your body, from healthy eating and hygiene to body confidence and exercise - Mental health awareness, self-care and hobbies - Managing relationships, from family and friends to crushes - A sensitive, age-appropriate introduction to sex, consent and privacy - Navigating the online world, including social media, bullying and cyber safety - Case studies of amazing and inspiring women 'Informative and empowering, perfect for my daughter Betsy, and all girls growing up in today's world' - Denise van Outen