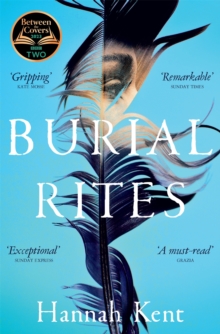 Iceland, 1829 - Agnes Magnusdottir is condemned to death for her part in the brutal murder of her lover. Agnes is sent to wait out her final months on the farm of district officer Jon Jonsson, his wife and their two daughters. Horrified to have a convicted murderer in their midst, the family avoid contact with Agnes.
Only Toti, the young assistant priest appointed Agnes's spiritual guardian, is compelled to try to understand her. As the year progresses and the hardships of rural life force the household to work side by side, Agnes's story begins to emerge and with it the family's terrible realization that all is not as they had assumed. Based on actual events, Burial Rites is an astonishing and moving novel about the truths we claim to know and the ways in which we interpret what we're told.
In beautiful, cut-glass prose, Hannah Kent portrays Iceland's formidable landscape, in which every day is a battle for survival, and asks, how can one woman hope to endure when her life depends upon the stories told by others?Inspired by a true story, Burial Rites is perfect for fans of Alias Grace by Margaret Atwood and The Lifeboat by Charlotte Rogan.