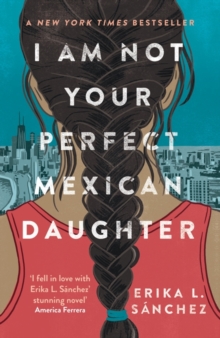 I Am Not Your Perfect Mexican Daughter
Erika Sanchez
More by this author...
£7.99
Out 3rd March 2022
LGBTQ+
YA
Pre-Order
Writers of colour
'I fell in love with Erika L. Sanchez' stunning novel... The depth, wit and searing intelligence of her writing, and her young Latina heroine, struck me to my core.' America Ferrera
'This gripping debut about a Mexican-American misfit is alive and crackling.' New York Times
'A perfect book about imperfection.' Juan Felipe Herrera
The Absolutely True Diary of a Part-Time Indian meets Jane the Virgin in this poignant but laugh-out-loud funny contemporary YA about losing a sister and finding yourself.
When her sister Olga dies in a tragic accident, Julia is left to pick up the pieces of her family. She is also expected to fill the shoes of her sister. But Julia has never been the perfect Mexican daughter.
As Julia struggles to find her place in the world, she discovers Olga was not as perfect as everyone thought. Who was her sister really? And how can Julia even attempt to live up to an impossible ideal?