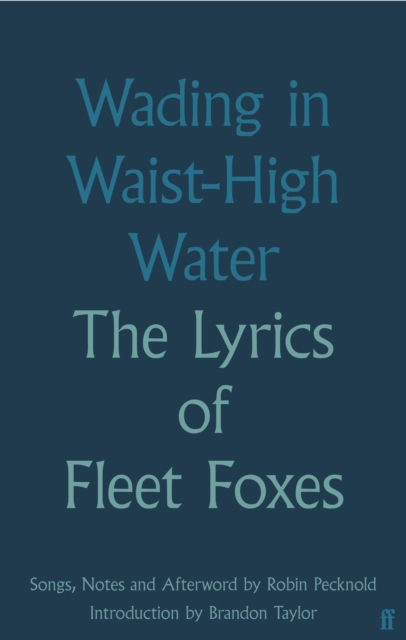 "There is something quite moving about seeing the lyrics of these fifty-six songs collected and assembled this way. You can see the evolution of the minds and hearts at work behind the lyrics. . . . It's a thrill, realizing that it's a still-evolving and growing body of work." -Brandon Taylor
Since the release of their breakout debut in 2008, Fleet Foxes and their frontman, singer-songwriter Robin Pecknold, have enjoyed international critical and commercial acclaim.
Drawing comparisons to Simon & Garfunkel; Crosby, Stills & Nash; and the music of Brian Wilson, Grammy-nominated Fleet Foxes have reshaped the American indie-folk sound, crafting songs that are acoustically and melodically driven, steeped in gospel-like harmonies, and propelled by resonant and timeless lyrics. Wading in Waist-High Water: The Lyrics of Fleet Foxes contains Robin Pecknold's complete lyrics from 56 songs, capturing the poetic and inventive storytelling that is a hallmark of the band's music. These richly layered lyrics explore the complexity, darkness, and beauty of physical and emotional landscapes, both pastoral and modern.
Alongside the lyrics, Pecknold includes hand-written notes and candid observations on creative processes, inspirations, and motivations. With an introduction by celebrated author Brandon Taylor, Wading in Waist-High Water: The Lyrics of Fleet Foxes is a moving and intimate look at the art of songwriting, the joy of music-making, and what it means to produce meaningful and memorable sound.