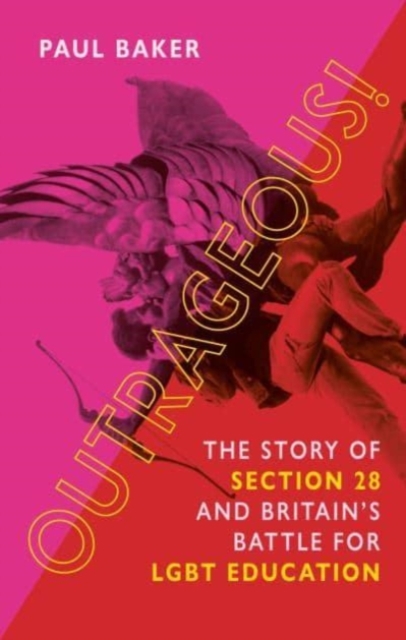 Outrageous! : The Story of Section 28 and Britain's Battle for LGBT Education
Baker, Paul
More by this author...
£15.99
An impassioned, warm, often moving account of the infamous Section 28, which enshrined unthinkable prejudice within law, and of the power of community to overcome it.
From the author of the bestselling Fabulosa! The Story of Polari, Britain's Secret Gay Language
'An important and fascinating deep dive into one of the most damaging pieces of legislation in modern history.' Matthew Todd, author of Straight Jacket and Pride
'A surprising, smart, funny, and beautifully written book. Equal parts memoir and cultural history, it tells a detailed and deeply personal story of grassroots LGBT activism and everyday queer life in the UK over the past thirty years.' Jason Baumann, editor of The Stonewall Reader
On 23 May 1988, Paul Baker sat down with his family to eat cake on his sixteenth birthday while The Six O'Clock News played in the background. But something was not quite right. There was muffled shouting - 'Stop Section 28!' - and a scuffle. The morning papers would announce: 'Beeb Man Sits on Lesbian'.
The next day Section 28 passed into law, forbidding local authorities from teaching 'the acceptability of homosexuality as a pretended family relationship'. It would send shockwaves through British society, silencing gay pupils and teachers while galvanizing mass protests and the formation of the LGBTQ+ rights groups OutRage! and Stonewall.
Outrageous! tells the full story: the background to the Act, how the press fanned the flames and what politicians said during debates, how protestors fought back to bring about the repeal of the law in the 2000s, and its eventual legacy. Based on detailed research, interviews with key figures - including Ian McKellen, Michael Cashman and Angela Mason - and personal recollection, it is an impassioned, warm, often moving account of unthinkable prejudice enshrined within law, and of the power of community to overcome it.
'Blowing the lid off a circus of sanctimony with flair, enormous heart and an eye for the absurd, this indispensable history reads like a madcap caper - reaffirming Paul Baker as an expert malarkey decoder, hope detector amid calamity rubble, and dab hand at the queer deep dive.' Jeremy Atherton Lin, author of Gay Bar
'The entirely pleasing thought that Outrageous! will be stocked in school libraries is a satisfying slap in the face to the battle-bus of bigots who thought Section 28 was a good idea in the first place . . . A lovely conversational social history.' Paul Flynn, author of Good As You